Content available in:
العربية (Arabic)
Antimicrobial use in commercial poultry has been drastically reduced or eliminated in recent years. Improved livability without the need for medication is definitely a reality today in various breeds and breed crosses of commercial egg layers. It is important to review some of the factors involved in maintaining flock health and performance without the need for medication.

Improving livability through genetic selection is a complex matter that is directly connected to the ability of flocks to achieve longer egg production cycles while maintaining excellent performance and without experiencing significant losses.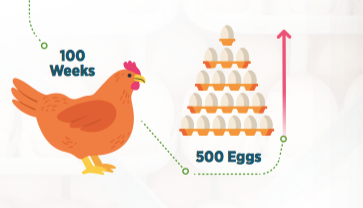 In the past, it was necessary to cut production cycles short or to induce molting in order to avoid metabolic diseases, reduce mortality and maintain eggshell quality. Today, long production cycles are common in many egg layer operations around the world.
Flocks can sustain long production cycles without significant detriment to their health, bone integrity and eggshell qualities.
A large part of the reason why chicken flocks can now achieve a production of up to 500 eggs by 100 weeks of age, is because livability to 100 weeks has improved dramatically in recent years.
Farm and house design should always match the biosecurity and welfare needs of pullets and hens. Regarding infrastructure, it is not absolutely necessary to have the best and most expensive facilities.